Our philosophy is to provide a safe and enjoyable water experience for all children. Our lessons are designed to develop your child in stages from water orientation through the four competitive strokes. We use creative and innovative drills with equipment designed to build strength and endurance as well as making lessons fun, motivating and productive. The best way for children to become water safe is through an ongoing instructional program. Our program is developed from the American Red Cross and the United States Swim School Associations.
Click for FALL 2018 - Spring 2019 Swim Lessons
All lessons/teams are held at the Cedarland Aquatic Center
FREE PARENT 'N TOT SWIM LESSON
Monday, October 22nd
10:00 - 10:30 am
Grandparents Welcome!!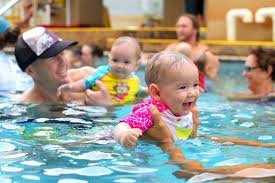 Parents we all know how important water safety and learning how to swim is. This FREE lesson is a great opportunity for you to:
Learn information and techniques to orient your child to the water
Learn how to safely supervise all water activities
Help your child feel comfortable in the water
Classes will be divided by age: Parent 'n Tots 8 months to 2 years
Adv. Parent 'n Tot 2 - 3 years
New Swim Lesson participants only. Children not toilet trained must wear a swim diaper. Lesson held at Cedarland Aquatic Center, 888 Boston Road, Haverhill, MA 01835.
Reserve your spot by emailing Stacy Roberts at sroberts@cedardale-health.net or calling (978) 521-7700.
---